.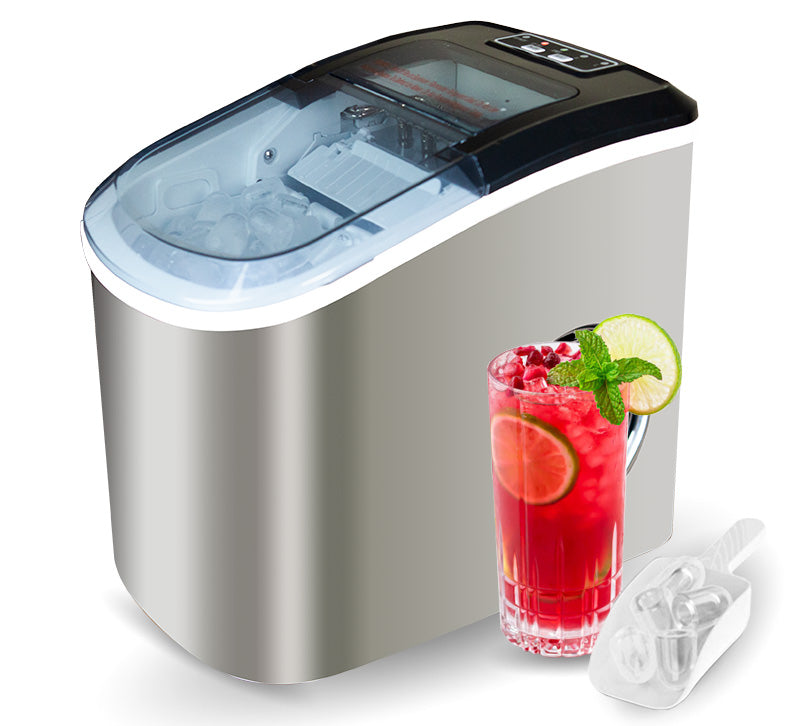 Stainless Steel Portable Ice Maker Compact Countertop with Panoramic View Window, Ice Cube Machine, Bullet Cubes in S/L Size 26 lb/24H for Home Office Party, Boat RV
You will always have enough ice for celebrations and get-togethers with the sleek and compact ice maker. This glacier white countertop ice maker features super quiet operation with 2 lbs ice basket capacity. This ice maker can make nine ice bullets in 10 minutes. Simply fill the reservoir with water. It makes a whopping 26 pounds of ice in a 24 hour period. Choose the size of your ice cubes to fit the drinks you are making (Small or Large). Powered by high-efficiency compressor cooling system. Electronic controls with a LED indicator with "Add water" and "ice Full" LED indicator.

Please note:
1. This is not a fridge, it will NOT keep the ice frozen overnight.
2. If the room or water temperature is too high, the machine may need extra time to chill the water then produce the ice for this first batch.
3. If you prefer clear ice, please use purified or distilled water to make ice cubes. The most obvious reason for ice being cloudy is purity. Water with many impurities, including lime, scale, fluoride, calcium, and other particles will inevitably be more cloudy and milky in appearance.
Portable size is perfect for your RV, boat, or kitchen, this ice maker is compact, bars, restaurants, portable and works anywhere with 110V outlet available

Just plug in, add water and enjoy a batch of ice in as little as 10 minutes, so you never have to run to the store for a bag of ice again

Intuitive and easy-to-use control panel with ice full and water low alarms. A viewing window allows you watch the ice being made, while the 2-pound ice basket ensures plenty of capacity for all of your beverage needs.

Just turn on this ice maker then add water, it makes up to 26 lbs. in 24 hours of bullet ice cubes per day

Panoramic View Window - Nice tinted blue view window allow you to monitor the ice making process & check ice level anytime