.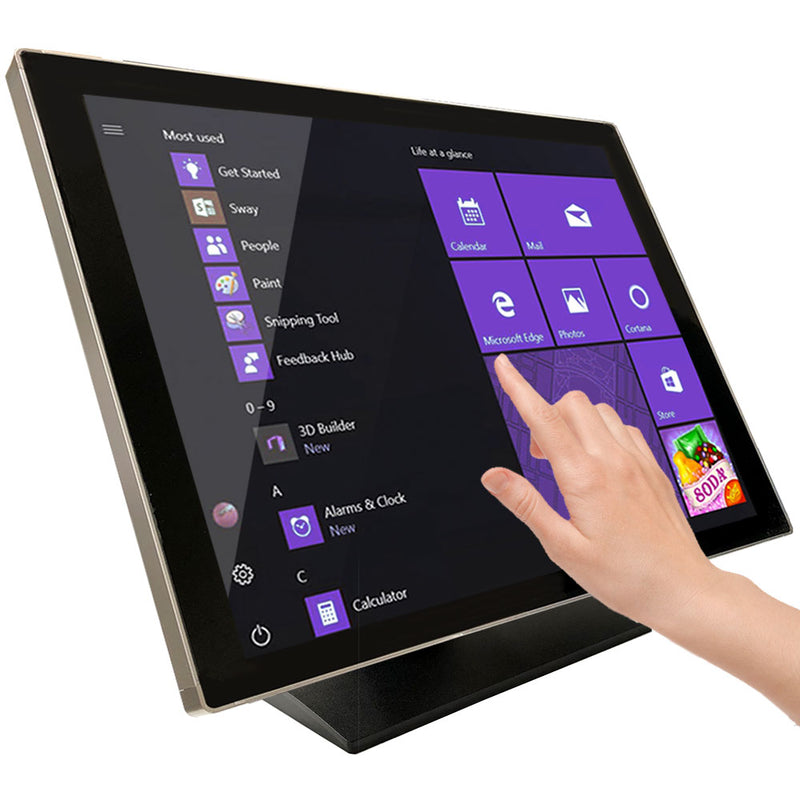 23.6" Capacitive Pro LED Backlit Multi-Touch HDMI VGA Monitor with 16:9 Display 1920 x 1080, True Flat Seamless Design Touchscreen, Great for Office, POS, Retail, Restaurant, Bar, Gym, Warehouse
NO DRIVER REQUIRED, Plug & Play Capacitive Touch screen monitor supports multi-touch operation under Windows 8/10, single touch in Windows 7/XP/2000

Capacitive Multi-Touch screen can register up to 10 simultaneous touch points, this monitor is extremely fast and accurate for POS or office use

Multi-Touch Operation like Drag-n-Dropping can instantly increase your touch operation productivity

True Flat (no bezel) Seamless Design, the touch screen can easily be wiped clean & eliminating the dust and dirt

Solid Metal Stand features holes to organize and hide the monitor cords inside to keep cords organized behind the monitor
This 17" capacitive multi-touch POS touch screen monitor is engineered specifically for consumer and commercial customers who are looking for a rugged and durable touch screen monitor. The stylish true flat (no bezel) screen design provides an ascetically pleasing look and is also functional by preventing a buildup of debris around the monitor edges; this feature also makes the unit impervious to spills.

Specifications:

- Display Type: Touch Screen
- Screen Size: 17 inch
- Display Format: 4:3 Standard LED
- Native Resolution: 1280 x 1024
- Contrast Ratio: 350:1
- Brightness: 300 cd/m2
- Video Response Time: 9 ms typical / Touch Response Time: 5.4 ms typical
- Horizontal Viewing Angle: 170 degrees
- Vertical Viewing Angle: 170 degrees
- Power Consumption:30W
- PowerSupply: 100-240 VAC / 50-60 Hz

Package Contents:

- Touch Screen LED Display
- Power Adapter
- Power Cord
- VGA Signal Cable
- USB Cable

Note: Please note the stand for this touch screen monitor is designed for normal touch operations, not for strong poking operations.