.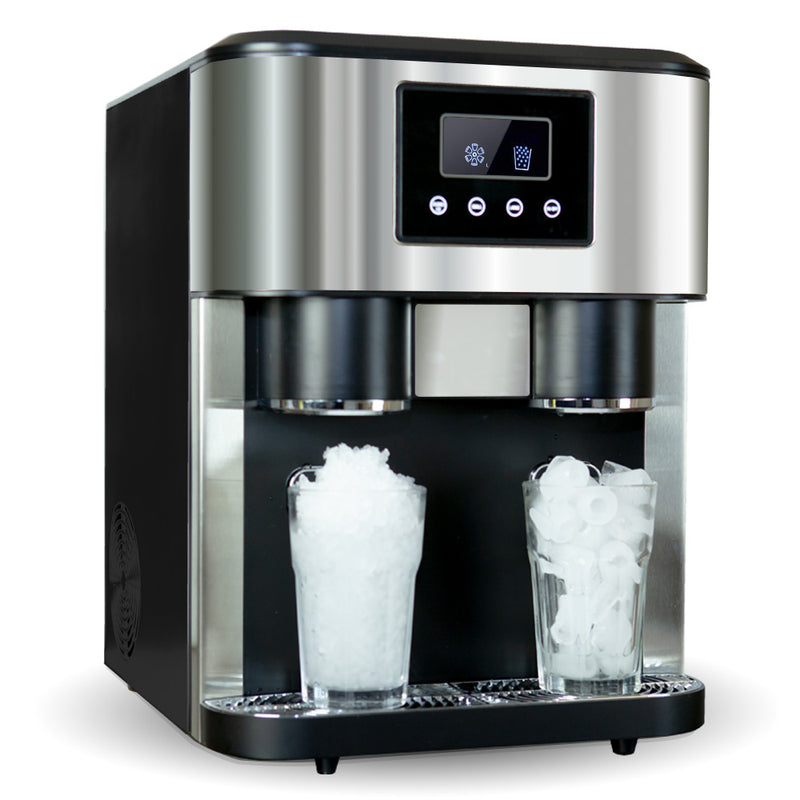 Crushed ice and ice cube maker with ice water function, Countertop Stainless Steel Ice Cube Machine, Two Ice Size
Three different functions: ice cubes, ice water and crushed ice.

Automatic shutoff with overflow protection ensures ice production stops when the bin is full, preventing overflow.

Installation kit & ice maker line adapter included for hookup with water supply.

Up to 40 lb. of ice in 24 hours

Simply look through See-through window to see how much ice you have. Free standing design stainless steel portable ice maker allows versatile placement. Idea for you home,coffee shop,bar. Please leave the ice maker upright for at least 24 hours before using it.
Enjoy tasty and ice-cold drinks around the clock: with three functions and two ice cube sizes, this Crushed ice maker it possible. The powerful crushed ice cube machine produces 15-18 kg of ice cubes daily. Thus, it is ideal for both at home and for use at parties or garden parties. The operation of the ice cube maker is done easily and conveniently via the control panel with push buttons under a clear LCD display, where the ice cubes can be produced in small and large sizes. Thanks to its three different functions, the Ice Age Crush not only serves ice cubes, but offers - as the name implies - ice water as well as crushed ice. With a generous water tank with a capacity of 1.8 litres and a container with an ice cube capacity of 600 g, the ice cube maker is ready for the preparation of any amount of ice-cold drinks. The water is supplied manually or by connecting to the faucet via the included hose. When the ice bucket is full or the water level is too low, the ice cube maker sounds an alarm so you can respond quickly. After use, the sturdy housing with a brushed stainless steel front is easily

This crushed ice maker is the ultimate luxury entertaining necessity for your home bar or kitchen, great for making both fancy cocktails and cool summertime beverages. Additional features include low water and full ice indicators; LED control panel and space-conserving countertop design. Just fill the with water, turn it on and enjoy clear ice in minutes. You can also use the water supply hose, water supply connector for permanent installation.


Please note:
1. This is not a fridge, it will NOT keep the ice frozen overnight.
2. The 24 ice cubes may come out together in a batch, you can easily break them by hand or put them in bag then break apart lightly with wooden cleaver.
3. If the room or water temperature is too high, the machine may need extra time to chill the water then produce the ice for the first batch.